A Story of Texas Cattle and Oil
It was only a cast-off tin box. Tom Meredith little realized when he picked it up that he was to entrust to this small, insignificant vessel the secret of his own death – and that of his wife.
But these were not the only secrets it contained.
It held the key which unlocked the door to two mysteries: how June, Meredith's daughter, was despoiled of her birthright; and how a conscienceless scoundrel, using every instrument in his grasp to extort the last vestige of profit from anyone he could get into his clutches, achieved his rise to wealth and power.
When we first hear of the little tin box, it is floating away on a flooded Texas river. An inscrutable destiny guides its course to an obscure resting place whence it is to emerge dramatically as if at the bidding of a hidden will, to bring justice to the wronged and retribution to the wrongdoer.
The setting for this eventful novel is the Texas of 1950's with its spacious plains, herds of cattle and hidden wealth of black gold. Against a colorful panorama of ranch life there transpires a turbulent story of intrigue – with no holds barred – and of staunch loyalty between cowboy and employer.
And of course there is romance, as rivals contend for the love of the golden-haired June, each uses the weapons in which he is most skilled. Whether his tools are financial trickery and guile, expert bronc-busting and steer-roping, or adept handling of shooting irons, you will agree when Bill Shearn finally manages to put his brand on the quarry, that the best man wins.
The tin box, like a Pandora's, unleashes a host of troubles but, like Pandora's, it holds compensation, too.
My Product Model Success Guide: PHOTOS
This 5-star reviewed book is a fast and easy way to learn how to achieve the best possible e-commerce photos for your brand. It will help you avoid big pitfalls, and wasted time and money while providing you valuable information to create the best photos for your needs.
In this book, you get to understand the process of creating good e-commerce photos through the eyes of Daisi Pollard Sepulveda, whose team at My Product Model has produced thousands of photos for e-commerce brands, all over the world. Daisi shows you how to:
Distinguish between a Good Photo and a Bad Photo by deconstructing the elements that make up a good photo that sells.

Understand the different photo styles and how and when to use them.

Learn the do's and don't of creating photos for various platforms, so you can choose the one that matches your goals.

Get the inside scope into producing a successful photoshoot including shooting on locations, hiring models, and using the right equipment.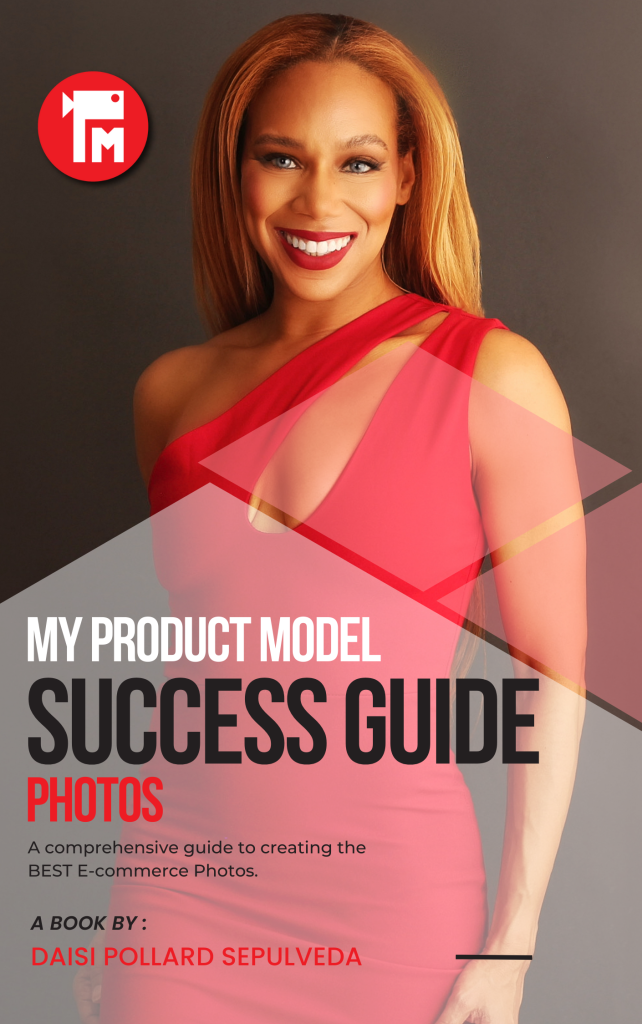 Vol. 1 - #1 Fast and Effective Guide to Getting Professionally Paid Modeling Work
Daisi Pollard Sepulveda has modeled for dozens of years as a freelance and agency-represented model with exclusive and non-exclusive contracts. During her career, she has walked runways, appeared in major campaigns, and published in numerous magazines and publications around the world. Daisi mentored and coached aspiring models on how to find build a portfolio, get signed with agencies, book paid shoots, and build a long-lasting modeling career.
In this book, Daisi provides the most important things you need to know to get started on the road to a successful career in modeling including:
Major and niche U.S. markets (New York, Los Angeles, and Miami)

Where to look for freelance modeling jobs both online and offline.

Resources for getting affordable services such as photos, retouching, makeup, hair and wardrobe, website, digital portfolio, etc.

Getting set up for success online

Industry Terminology -You will help you develop credibility when meeting with industry professionals and applying for jobs.

How to develop a brand for yourself that will set you aside from other models.

How to successfully multi-list with agencies.

How to dress for castings AND for actual jobs!

How to partner with the right people to gain more work and exposure.

Building a Modeling Career for the long haul
Top Guide To Winning A Pageant and Becoming a Beauty Queen
Daisi Jo Pollard Sepulveda is an accomplished multi-pageant titleholder. She has competed in international pageants worldwide including in China, Japan, the Philippines, and the U.S.A. Daisi has successfully raised sponsorships for her competitions up to $300,000 in cash, prizes, and endorsements. She has famously used her titles and prestige to work with big brands and benefit charities and causes that resonate with her.
In this book, Daisi provides what you need to know to decide what type of pageant would be good for you, how to prepare for competition, what to expect during a competition, how to fundraise, attract sponsors and use your title to create career-building opportunities.